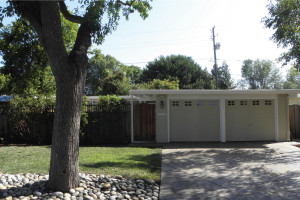 By Pat Jordan
The below analysis was written by a colleague, John Fyten, and gives an overview of the three home styles in Monta Loma and some information on each of the three builders:
The Monta Loma tract is just east of the former Hewlett-Packard Mayfield facility.
It is bordered by San Antonio Road to the west, Middlefield Road on the north, Rengstorff Avenue on the east, and Central Expressway on the south.
Architecturally, it is a sort of 7/8ths-scale replica of South Palo Alto, all contemporaries, except that the homes are even smaller here. Eichler was active in Monta Loma in 1954, building over 200 homes in a tract called "Fairview." They are three bedroom, two bath homes, almost all 1,116 sq. ft.  Eichler's competitor, John Mackay, went into Monta Loma in a big way in 1955–56, also leaving behind over 200 3/2 flattops. Almost half are on slab, most of them 1,104 sq. ft., but a handful of 1,344 sq. ft.
Unlike Eichler, Mackay also built raised-perimeter contemporaries here, most of 1,280 sq. ft. although his last homes were either 1,302 or 1,389 sq. ft.  Monta Loma's third builder of contemporaries was Mardell Building Company, and perhaps Marcelyn and Dell Avenues give some clue as to the origin of this name (as it turns out, "Sydelle"" was the name of the wife of one of Mardell's partners). He/she/they built 234 raised perimeter contemporaries of 1,140 and 1,216 sq. ft., the former 3/2, the latter usually a 3/2, but sometimes a 4/2 with the 3/2's dining room the fourth bedroom. [An article in the Summer 2016 issue of "CA Modern" magazine features several homes on Whitney Drive.]
Built in 1955 to 1959, Mardell Manor was the last Monta Loma tract to be built, its homes indistinguishable from Eichlers and Mackays to the casual observer. Here's how to tell the players: Eichlers have plank ceilings; Mardells also do but, unlike Eichlers, originally came with hardwood floors; Mackays sometimes had hardwood but always have painted Celotex ceilings.
Eichler

Mardell

Mackay

Style
Contemporary
Contemporary
Contemporary
BR/BA &Square Feet
3/2; 1,116 SF
3/2, 4/2; 1,140 & 1,216 SF
3/2, 4/2; 1,104 & 1,344 SF (slab);
1,280, 1,309 & 1,389 (perim)
Garage
2 Car or Carport
2 Car
1 or 2 Car
Heat
Radiant, steel pipes
Forced Air
Wall Furnace or Forced Air
Dining
Living/Dining Combo
Dining Room or Family Kitchen
Family Kitchen
Walls
Wood Panel Philippine Mahogany
Sheet Rock
Sheet Rock
Ceiling
Wood
Wood
Celotex Panels
Floors
VCT Tile
Hardwood
Hardwood/Asphalt Tile
Foundation
Slab
Concrete Perimeter
Slab or Concrete Perimeter
*Unique features. Presumed current, no warranties.